TWO SESSIONS PER MONTH  – Every first and third Tuesday of the month. Arrive at Cirencester Arena to take part in the warmup session at 1:30 followed by a game until 2:30 with an opportunity of a social chat afterwards. These sessions are fun, not too taxing and are for anyone over 18 male or female to exercise in a very relaxed, enjoyable way.
Everyone MUST register here in advance to play – please complete the following form and send:-
We collaborate with and are supported by Cirencester Phoenix Walking Football club (CPWFC) in conjunction with Cirencester Arena, here is the link to CPWFC Cirencester Arena
Walking Football with Cirencester Phoenix Walking Football Club can provide regular exercise sessions for all our members, care support, family or friends with Parkinson's or not or with any other condition to take part in either walking football, training or just watching / supporting as part of a fun time.
Do not worry if you don't have equipment, the Branch will look into that too.
Cirencester Phoenix Walking Football Club
Here is link to location Map LOCATION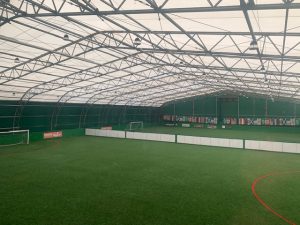 Above is the indoor venue.
USEFUL LINKS:
Here is the website for The Walking Football Association England
Here's a link to a guide to playing
The WFA Guide To Walking Football
Here is the link to the video on Abbeymead session
https://www.youtube.com/watch?v=AICUa_cxjr0&ab_channel=wecanmove
Here is a link to other videos on the WFA website
https://thewfa.co.uk/walking-football-impairment/
Here is a video link from the Walking Football sessions in Gloucester to temp you