We have started a donation page to help pay for transportation to get our members to and from our events.
Here is the link to our new Just Giving page where donations go directly to the Cirencester and Stroud Branch for use with our local members:
DONATE to Cirencester & Stroud Branch
And here is a link if you wish to donate directly to Parkinson's UK for their research campaigns to help find a cure:
Donations can also be made by testamentary dispositions (through personal wills) and in-memoriam donations.
Please contact Branch Chairman Kevin Young for information regarding all donations. We bank with Barclays Bank in Cirencester, banking details can be obtained from Jenny Hoffmann, Treasurer.
Thank you.
We organised FOUR fundraising events and smaller organic events that arise throughout the year.
So far, we have raised the following (after costs) from the events held –
Paul Mayhew Archer Comedy Show 12th April = £4,768
Hill & Valley Singers Music Night 13th May = £1,500
Clubbing Together Golf event at Cirencester Golf Club = £7,200 (£6,700 direct to research, £517 to branch)
PPU6 – 23rd September 2023 = £3,496
The total raised so far in 2023 from four fundraisers above = £10,281 direct to branch funds
£6,800 was paid direct to research from the Clubbing Together event in May
The GRAND TOTAL from our fundraising efforts with branch involvement = £16,981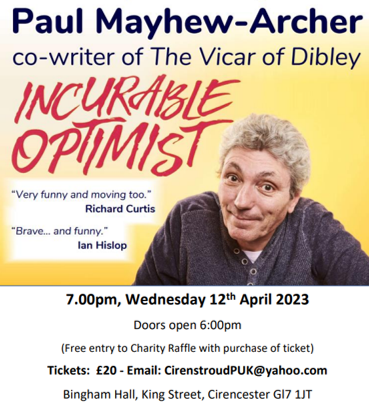 100% OF MONEY RAISED WENT TO OUR LOCAL PARKINSON'S BRANCH - £4,767.72
This was an important fundraising event for our Branch and a great opportunity to raise awareness of Parkinson's Disease within our community.
We raised a total of £4,767.72 for our branch funds all thanks to Paul for his amazing show.
Paul's show about his career in comedy and how he finds the 'funny side' of living with Parkinson's has already received fabulous reviews.
See link https://www.chortle.co.uk/review/2019/03/23/42604/paul-mayhew-archer-incurable-optimist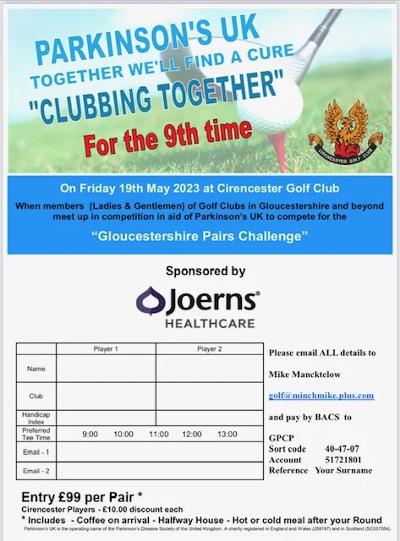 And in May, we had Clubbing Together
Over £28,000 raised for Parkinson's research from this event in the last 8 years.
On 19th May 2023 at Cirencester Golf Club the annual Clubbing Together fundraising competition took place which raised a total of £7,200 for Parkinson's research and includes £517 contribution to our branch funds for our members.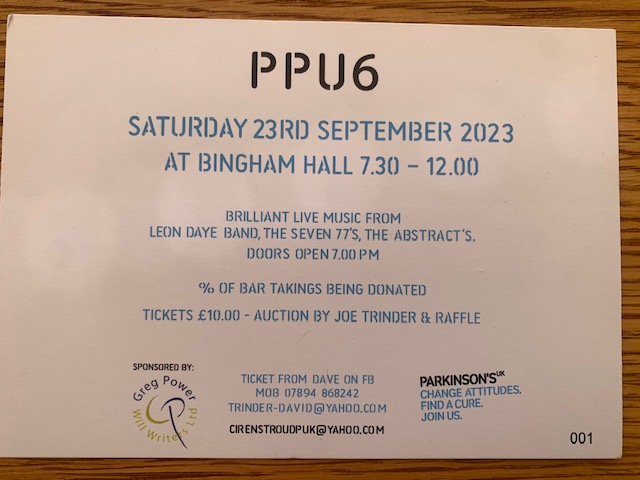 PPU#6 was 23rd September 2023 (Parkinson's People United)
More than £30,000 raised for Parkinson's from this annual event so far.
This year we raised £3,496.