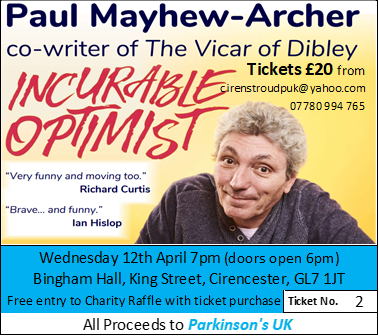 Incurable Optimist Show
Paul Mayhew-Archer INCURABLE OPTIMIST SHOW
On Wednesday 12th April at 7.00pm, we raised £4,768 with the help of comedy writer Paul Mayhew-Archer (Vicar of Dibley) when he performed his show  The Incurable Optimist in aid of the Cirencester & Stroud branch of Parkinson's UK at The Bingham Hall, Kings Street, Cirencester, GL7 1JT.
Here is a link to pictures taken on the night to enjoy (many thanks to Chris Fenton for the excellent photographic work on the night).
This was an important fundraising event for our Branch and also a great opportunity to raise awareness of Parkinson's Disease. Paul's show about his career in comedy and how he finds the 'funny side' of living with Parkinson's has already received fabulous reviews (check on this website) www.chortle.co.uk/review/2019/03/23/42604/paul-mayhew-archer-incurable-optimist
Here's and interview that Paul did with the Barn Theatre to help promote the show with us but it will also be used to promote his show nationally.
Listen to Paul on BBC Radio Gloucestershire 23rd March at this link:
Anna King – Dominic Cotter sits in (23/03/2023) – BBC Sounds