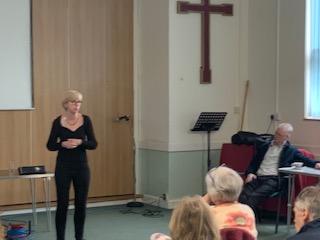 CEO of Parkinson's UK Visits the Branch 20th Feb 2023
Caroline Rassell was invited to join us to meet the committee and then all the members as well as take part in Tim Bird's Tai Chi and exercise taster session. After a tea and some cake, we opened the floor to questions and answers from Caroline about being Chief Executive Officer of the national charity we are all part of. Some very good questions, and one question from Mr Jeremy Paxman, the TV presenter who called into the Q&A session by arrangement through your Chairman and others.
It was a very well attended and enjoyed event.
Caroline wrote back to us and said:-
Visit to Cirencester
On a chilly Monday it was great to arrive in Cirencester.     Kevin and Karen had arranged a working lunch with Committee Members and it was a pleasure to meet them and hear some of the challenges that are faced with a geographically dispersed community.
The Branch Meeting was vibrant and vocal.   It was great to be part of the activity session led by Tim Bird.      It was clear from the enthusiasm in the room that being active whether it's Tai Chi, boxing or indeed anything that concentrates on co-ordination and quick thinking is welcomed.
I shared with the group firstly how important I feel it is for our community to know that PUK is their charity and that we are here to support, work with and for them.    Over the past 18 months since I have been at the Charity I have been meeting different people from the community and listening to what is important for them.     As a result the Charity is focusing on 3 key areas – Pushing for excellent health and care; building a community of support (including access to branches, our helpline and advisor service and supporting activities); getting new treatments, faster.       It is clear that Every Parkinson's Journey matters and we want to have an impact that means the community feel that they more hope and control over their journey.
The questions from the audience were rightly challenging and inquisitive – great questions about how we work with Cure Parkinsons to ensure we complement and support each other, through to how we could mobilise our VIPs and celebrities and be more vocal about Parkinson's and raise the profile.
It was a memorable afternoon and gave me a great amount to think about and reflection on.   A Big Thank You to everyone who attended.
Caroline
Chief Executive